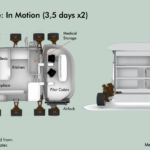 HuSuMo – Human Surface Mobility project
As a design practise for space architecture we were tasked to design a vehicle for Human Surface Mobility. We imagined a 2-week away mission on Mars to further explore the surface, collect samples and check for mining sites.
You can read about the details of the mission below the photo gallery.
Copyright © 2021 – Eszter Gulacsi, Charlie Laran, Nirav Patel and Katia Talbi (ISU project)